Project242 (P242) is my journey to bike 242 miles in 24 hours, across the state of Minnesota on gravel roads, in August, 2021 (the Day Across MN, or the DAMN). I've found many lessons experienced riding a bike can be applied to our careers. In these posts, I will share the correlations.
"How long do I need to hold this plank? Five minutes!! Oh hell, might as well get it over with."
With that, I placed my forearms onto the towel, hit GO on the stopwatch, and held it there. After 3 minutes, I started to shutter a little bit. After 4 minutes, I was shaking. At 5 minutes, my mid section was on fire. But, I did it! Now time for 50 weighted sumo squats!
Preparing for a bike race requires more than just biking. As I learned with running, doing one thing can create a reliance on specific muscles, leading to weakness in others and potential injury (which happened to my calf muscle a few years ago). Since then, I make strength training a critical part of training.
Think of it as a foundation for your home. If the foundation is weak, then walls will crack. Or, if the outer foundation is strong but the center area that holds up load-bearing beams is week, floors sag. When a foundation is strong in all areas, your house has a greater chance of having less structural issues and will hold strong for years to come.
Same goes for your body. Having a strong core, low back, shoulders, legs and arms create a solid foundation to be built from. You're less likely to have injury and can push yourself a little harder.
A solid foundation not only helps your body, but also your career.
Think back to the start of your career. I came out of college ready to take over the HR world! Six months later, the magic wore off. After a year and a half of other positions, I found myself taking over an in-flight project with no formal training to help me or the team be successful. Unsure of myself, and with the help of an amazing boss, I was partnered with a fantastic mentor.
The mentor taught me a lot about relationships, conflict, and general "soft skills." But what I lacked was the solid Project Management foundation. I didn't understand a lot of the terminology, why we were using certain artifacts, and how to create those damn Gantt charts everyone was so eager to see.
Thankfully, I worked at a large company that had its own "university" and held a number of project management classes. I started with the foundational class, where I was also first introduced to this book they called the PMBOK. Then I went to other classes that dove into the process groups. Next, a couple more classes specific to how this company did projects. Then, this awesome tool everyone was falling in love with called MS Project. Finally, classes on conflict resolution and negotiation. I read and reread my notes, and even created some of my own templates. After 9 months, I felt confident enough to take on progressively larger projects.
Since that time, I've continued to learn new tactics and skills, continually building upon the foundation put in place 20+ years ago. This is important so as not to rely on just a few processes (or muscles) and allow other areas to get weak. Having that strong foundation helps you build more skills which can last a lifetime.
So next time you don't want to do that plank, take that class, or listen to a webinar/podcast, do it anyway. Continually reinforce your foundation and keep it strong!!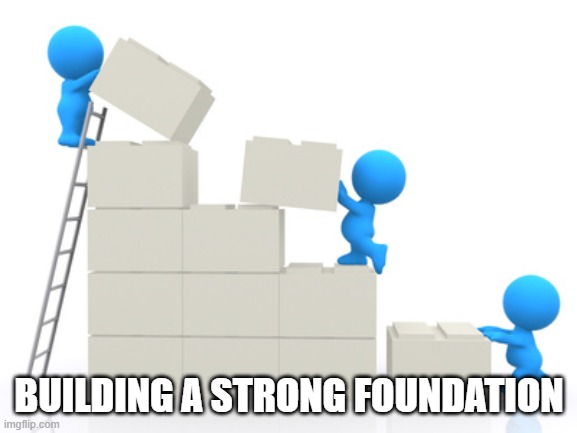 Processing…
Success! You're on the list.
Whoops! There was an error and we couldn't process your subscription. Please reload the page and try again.