"Why would I want to hire a project management consultant? I'm trying to build a family within my company and to rattle everyone with bringing in someone from the outside, only for them to leave again, would be detrimental. I just don't see the point."
In the back of my mind I'm thinking, families are dysfunctional as hell!! Why would you want that? Build a world-class team and bring in a coach to lead it. But, I'll save that rant for another day.
Anyway, projects, by their very nature, are perfect for consultants or staff aug (whichever you like to call them; for our purposes today we'll call them consultants). They're temporary. They have a definitive start and end. Once the project is done, you don't have a FTE to keep busy. Your company can move on to the next thing. Perfect!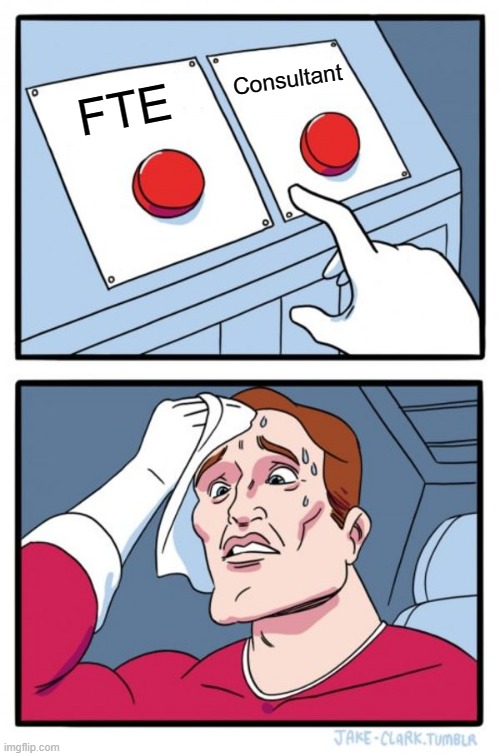 Being the only consultant, as well as project management professional, on the leadership Zoom meeting, all eyes went to me. Answer this question? I'd love to!
Here are the points I covered. I'm sure there are more, but I felt these covered the main points.
Hired to be Let Go. How much does it cost to hire someone? You probably need to advertise or engage a recruiting firm. Then, take time to cycle through a pile of resumes. Interview, interview again, meet to decide, paperwork, wait a few weeks for them to start, then get them going. Consultants are a little easier. Choose one. Contract. Start right away (or soon). Once the project is done, so are they. No messy HR separation!
Ready Day 1! From my standpoint, I like to know the scope of the project during the contract phase, so the PM should have a good feel for that when they show up the first day. Then, it's meeting the sponsor, key stakeholders, the team, and getting going. No paperwork. No time-consuming onboarding. They understand their job is to deliver, and that's what they're going to do!
An Expert in Their Role. I was once asked what's the difference between coming into a company as a FTE vs. consultant. My answer was as a consultant, I'm a perceived expert day 1. FTE's need to navigate their role initially and it can take more time to make an impact. Project management consultants know their role; to deliver results. They're damn good at it too.
Proficient at Relationship Building. Assuming they've been doing this a while, a project management consultant has been at other companies, running projects in different industries, and have interacted with a host of personality types. They're skilled at building relationships because they know relationships are the cornerstone to getting work done.
Teamwork Makes the Dream Work! They're gurus at teamwork and team leadership. They create dynamic, psychologically safe environments for team members to work in. Teamwork does make the dream work, or, at least gets the project done.
But They Don't Know Our Methodologies!! Trust me, most all companies have their own methods for getting projects done. But at the end of the day, there seems to only be a 5% difference in the processes one company uses over another. Project consultants can figure processes out quickly, and maybe even offer suggestions/best practices to make them better.
No Baggage Required. A consultant comes packed with experiences, not internal baggage derived from politics and posturing. They're there to get the job done, do the right things with the right people, and help the organization be successful. Office politics be damned!!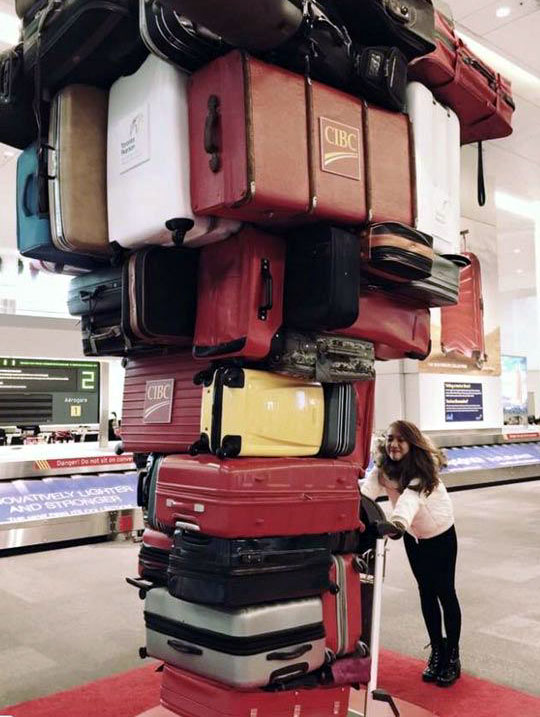 Amazing Honesty Filters. If you asked "So, what is your opinion on…", I'm gonna tell ya! But, I will do it in a respectful, professional manner (never burn bridges). Depending on experience and clients, consultants have seen a lot of what works, what doesn't, and the types of people who drive success. If I'm asked for my opinion, I'll give honest feedback, even if you don't like the response.
Leave Behind Something Positive. A completed project shouldn't be the only thing a consultant leaves behind. Anything from process enhancement suggestions, templates, team building practices, status changes, can have a lasting impact on a client. Leave something behind that has a lasting positive impact.
If you are thinking about hiring a project management consultant (or any consultant for that matter), hopefully these points will you in making your decision. If you are a consultant, maybe these will help when talking to potential clients, convincing them consultants are a good investment vs. FTE. In either case, good luck!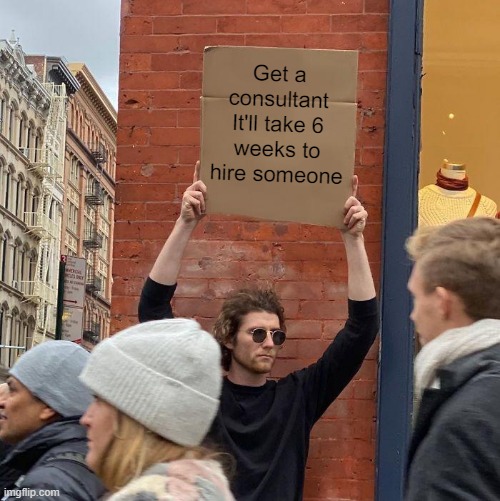 Processing…
Success! You're on the list.
Whoops! There was an error and we couldn't process your subscription. Please reload the page and try again.