We've all been there. You have a sponsor who wants all the glory for a successful, enterprise-changing project. However, when you ask them for a simple definition of what "done" looks like, they respond with a lot of ums and ahs. When a decision needs to be made, they gather a committee vs. making a decision themselves. If it's a decision that needs to be made immediately, they freeze. When an issue comes up, they're suddenly too busy to talk. Then, if things fall apart, they blame you! Or, they were assigned as a sponsor with no idea what it entailed or the role they would have to play.
Sponsors. Every project has them (or at least should have them!). They're the one you go to for questions and escalations. They help champion the change for those who will benefit and/or be impacted by the project. Since they own the outcome, they need to clearly articulate "done." They decide on scope change based on market or business needs. The project sponsor is a big deal!
But not all sponsors are created equal. I've had some who wanted me to call them at midnight on a Saturday if needed. Whereas others wouldn't return my calls for weeks and when they did, only had a few minutes to talk before they had to go (note: beware of a sponsor with EVP in their title, they're really busy). Some sponsors are randomly assigned a project with having never done it before or what a sponsor does. Others know what it takes to be a sponsor but find it too much of a pain in the ass or drain on time, so they avoid their sponsorly duties at all costs.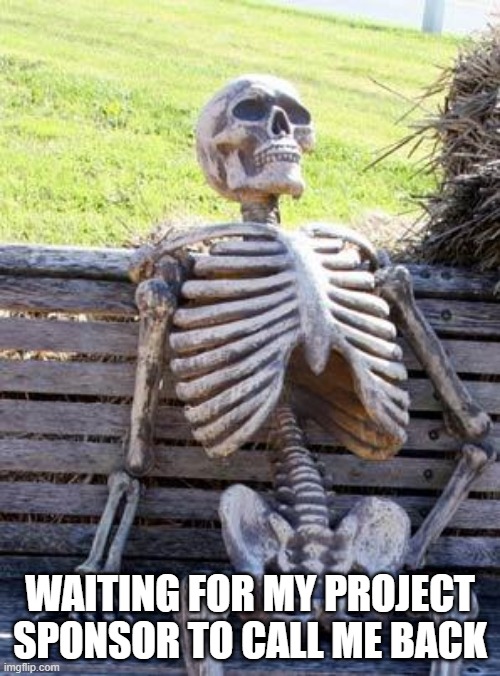 Here's where you, as the project manager, the person accountable for making stuff happen, needs to step in to make sure your sponsor performs! This can be an uncomfortable place, one in which you could get yelled at and threatened to be fired (I've been called every name in the book and threatened termination). But, you also know the project is important to the strategic goals of the company.
At the start of every project, one of the first people I meet with is the sponsor. I make sure this meeting is at least an hour or more (preferably over lunch or coffee) and covers two primary areas: 1) to get to know the sponsor as a person and 2) talk about our expectations and partnership to complete the project.
Getting to know them as a person is important. This starts to establish trust and rapport as you get to know each other and find common interests. We try to have a couple laughs as we share stories and feel more comfortable opening up and talking with each other. This leads into the more project side of the conversation.
As the sponsor and I start getting down to business of the project, these are the key areas I make sure we cover:
Organizational Strategy: can the sponsor clearly articulate its alignment and ensure the business case gets approved/updated/defended. Do I understand it sufficiently?
End Goal: what does "Done" look like and can you explain it not only to me and the project team doing the work, but also other leaders or those impacted by the project's output
Executive/Key Stakeholder Liaison: will you help manage the executive team and key stakeholders
Decision Making: can you make decisions quickly and what information would you like from me as the PM to ensure that happens
People/Resources: can you help get us the needed people and any resources the team will need
Do you have the time to handle this project: some projects you know from the onset will require more time from a sponsor than others. Because sponsors usually have a "day job", ensure they have time to handle this or may need assistance. Reassure them it's OK to admit they don't have a lot of time and commit to helping them free up time or get another sponsor to take over.
Change to the market/environment: do you have your finger on the pulse of the market or environment this project will go into and be able to initiate changes or cancel if needed
Accountability: will you hold yourself accountable for delivering on commitments, because if you don't, I will
Communication: this is CRITICAL!! How do we best communicate with each other (primary focus is informally with calls, emails, texts, carrier pigeon, and times of day to reach out including weekends)? Should we schedule recurring meetings? Do you want to review status reports before they go out to a broader audience? I commit to being transparent so they're never surprised and ask they keep me informed of decisions up the chain that may impact our project. The conversation usually expands, but communication MUST be covered.
There are more topics that can be covered on the project side of the meeting, but these, in my opinion anyway, are the most important.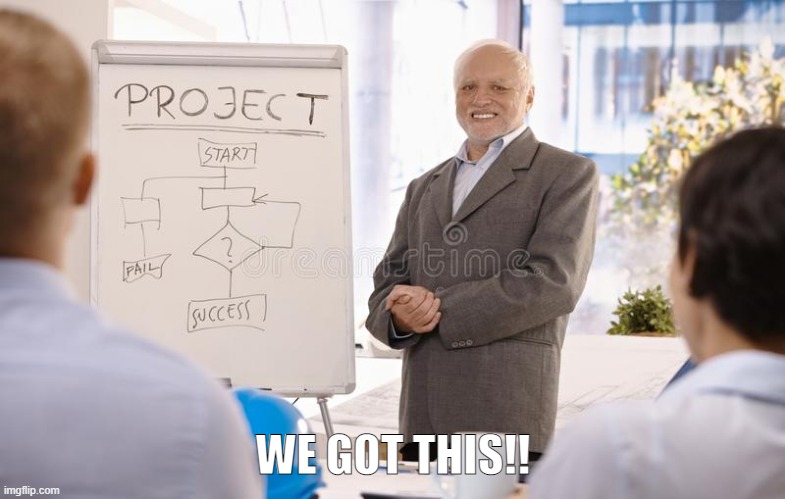 Now, I've heard from a number of project managers that I've worked with and have worked for me in a PMO or a program that complain on and on about how their project sponsor sucks. My response; that's too bad and sorry to hear, but it's your fault and need to take ownership for resolving.
WHAT!?!?!? Why is it my fault? They're not calling or emailing me back!!
Yes, your fault. Did you meet with them ahead of time and ask questions? Did you know in advance their time was limited? Were there warning signs pointing to them being a sponsor wasn't a good idea? What have you done to assist the sponsor in being successful?
This is not an easy conversation to have with a project manager suffering from a poor project sponsor, but neither is having a meeting about why the project failed. Some sponsors start out great and tail off. Look for reasons why. Most often, I've seen reduced communication and engagement as a key reason for this.
If you have a project sponsor that sucks, ask yourself if you've done all that's necessary to engage them early. Get to know them personally. Establish they can actually perform the role successfully and if they can't, no hard feelings. Take responsibility for helping them be successful, which will also benefit your project. Good luck!
Processing…
Success! You're on the list.
Whoops! There was an error and we couldn't process your subscription. Please reload the page and try again.