"Jason, we'd love it if you could join our committee. With all the changes in the community and our work to get ready, you'd be a great addition!"
Though I appreciated being asked, I was hesitant. This non-profit organization had great growth potential, but since being involved with them a year and a half earlier, not much had changed. The committee member leaving, who I knew on a personal level, was frustrated that when they did agree on something, there was a lack of action and accountability.
In the back of my mind, though, I thought maybe there was something I could do to help. I mean, I've been on church councils and helped other non-profits. I take action and hold myself and others accountable. But, I also traveled every other week and had team members in Europe and Asia Pacific who I talked to frequently off-hours. I had kids in swimming and baseball. Plus, I was training for my own running and bike races. I knew joining the committee would take a lot of time as well as could be frustratingly unfulfilling. I should decline.
"Thanks, but I don't have time right now and will need to pass." Thus started the comeback. We need you. You're important and can help us do great things. The kids need you. You owe it to them and the community. Even after all that, I knew I should still decline.
"Fine, YES, I'll do it."
WTF did I say YES for!! That was a dumbass move!! Did I want to help? Sure I did. Because their work impacted kids and adults, I felt it was a worthy cause, otherwise I wouldn't have been involved in the first place.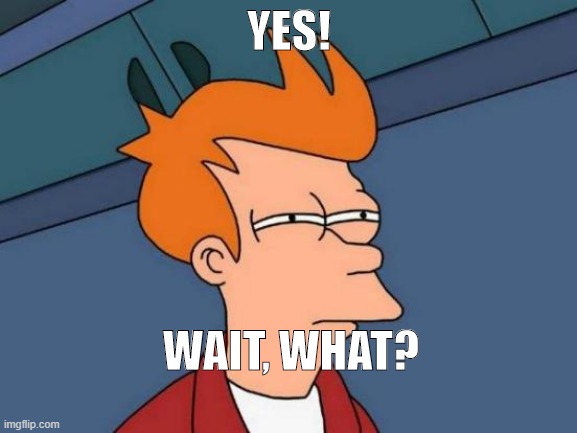 Because I committed to joining, I put put forth quite a bit of effort. But after my year commitment on the committee, the lack of progress was confirmation I'd made a poor decision. Through this process, though, I learned three valuable lessons.
The first is when you say YES to something you don't want to do, you'll resent the people or the person who asked. You'll more than likely do a mediocre job at best, handle tasks with minimal energy and feel you've wasted precious time out of your day and your life doing meaningless work.
Everyone says YES to something for their own reasons. I said YES in a moment when I should have stuck to my guns with my initial answer. I didn't start on the committee with the right frame of mind. Meetings were sometimes a grind, especially when I had other priorities or other things on my mind. Because of that, I had some resentment.
Second, saying YES usually means saying NO to something else. A one hour meeting twice a month was more than just two total hours. It was getting ready, driving to the building, having conversations, conducting the formal meeting, having a conversation after, and doing tasks either that night or at another time. Two hours became 10+ real quick.
Could I golf those nights? Nope. Did I miss a kid's swim meet? Yep. Was I able to spend time with my wife, family, friends, or take my dog for a walk? Negative. Could I go for a run or a bike ride on beautiful spring and summer evenings? Nah-ah. Because I said YES to the committee, I had to say NO multiple times to other requests.
Lastly, saying NO today creates more time tomorrow. When we say YES, we feel committed to see it through. But when we say NO, we free ourselves to go after other priorities. It also can reduce our stress and anxiety because we can focus on those other priorities.
Since that committee, I've been strategic about what I volunteer for and requests I agree to. I'm more comfortable saying NO than saying YES. Even though I may think the request being made sounds great, I look at the effort I would be able to put in, what I would need to say NO to if I said YES, and what time I'm OK giving up tomorrow.