I have one kiddo that still believes in the magic of Santa Claus. His little friends and our neighbors are also young enough to believe jolly ol' St. Nick will be dashing through the snow and the skies on his annual trip around the globe next week. Their eyes light up with excitement and anticipation for what's to come.
There are also lessons us older folks can take from Santa, too. Did you know Santa is probably one of the best PM's out there? True! Let's look at some of the project leadership qualities we can learn from the big man in the red suit.
Loves What He Does. Santa found his passion and turned it into a profession. It's not just a regular job. His goal is to put a smile on children's faces, as well as adult's. From Ho Ho Ho'ing at guest appearances to comforting frightened children on his lap, he loves his job. That love rubs off on those around him (he's good at spreading that holiday cheer!).
Delegation and Empowerment. Santa is a master at delegation. Think of all the toys that need to be built! The elves use their fine craftsmanship and tools to build those toys. Santa gives his staff direction and a vision, and lets them do their job. Same goes for the taller elves who fill in for him at thousands of malls around the world. Santa gives them a vision of how they should act, look and communicate. Then the elves go forth and represent him well!
Risk Mitigator. I live in North Dakota, so I know Christmas has the very real potential of a white-out blizzard. London could have fog. The Sahara, a sandstorm. That's cool, though. Santa's got a red-nosed reindeer to guide his sleigh. Probably has GPS too. But, ultimately, he's taken steps to reduce risk.
Sees Potential Issues and Handles Them Quickly. He sees you when you're sleeping, in which case everything should go well. But he also knows when you're awake, which can have a tendency to cause issues. Seeing these issues, he can quickly take action with minimal impact to the night's tasks.
Knows Customer Wants. Santa listens to what his customers want. Just as importantly, he listens to what they DON'T want. Could Santa get my kid a bowling ball with my initials on it? Sure! But that's not what my kiddo asked for. He also listens for changes and stays on top of potentially shifting market trends. Like, one minute they want Nike shoes and the next, Dudes.
Celebrates the Little Things. Milk and cookies are a sweet treat. Veggies and juice can be shared with reindeer. Beer and pizza is a party! Sure, I told my kid years ago to leave Santa a Budweiser and beef sticks because someday he'd understand what Santa really wants. Work hard, but enjoy the little things.
Stays Cool and Meets Tight Deadlines. Hit every house on every continent in 1 day! What could possibly go wrong? Well, lots of stuff. That's why he knows snags will come up along the route. When they happen, he stays cool and figures it out.
Santa Recharges. What does Santa do after Christmas? A few years ago at a conference in Florida, I saw Santa (or an older, bigger gentleman with white hair and white beard) in swim trunks, tank top and flip flops going deep sea fishing. After much work and an aggressive final implementation, he took time to recharge before starting up on the next round.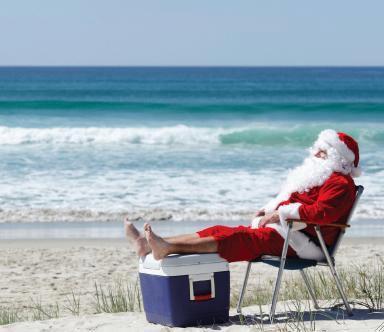 Santa. The best PM I've ever met in a red suit and a white beard. Not only does he spread joy, he's also a superstar PM we can all learn from.
Merry Christmas and Happy Holidays!!